Youth Services Featured Events can be found by clicking here!
Did you miss a recorded program? Check out our YouTube page!
---
CPL's Adult Summer Reading Challenge is Back!
June 13 - August 28, 2022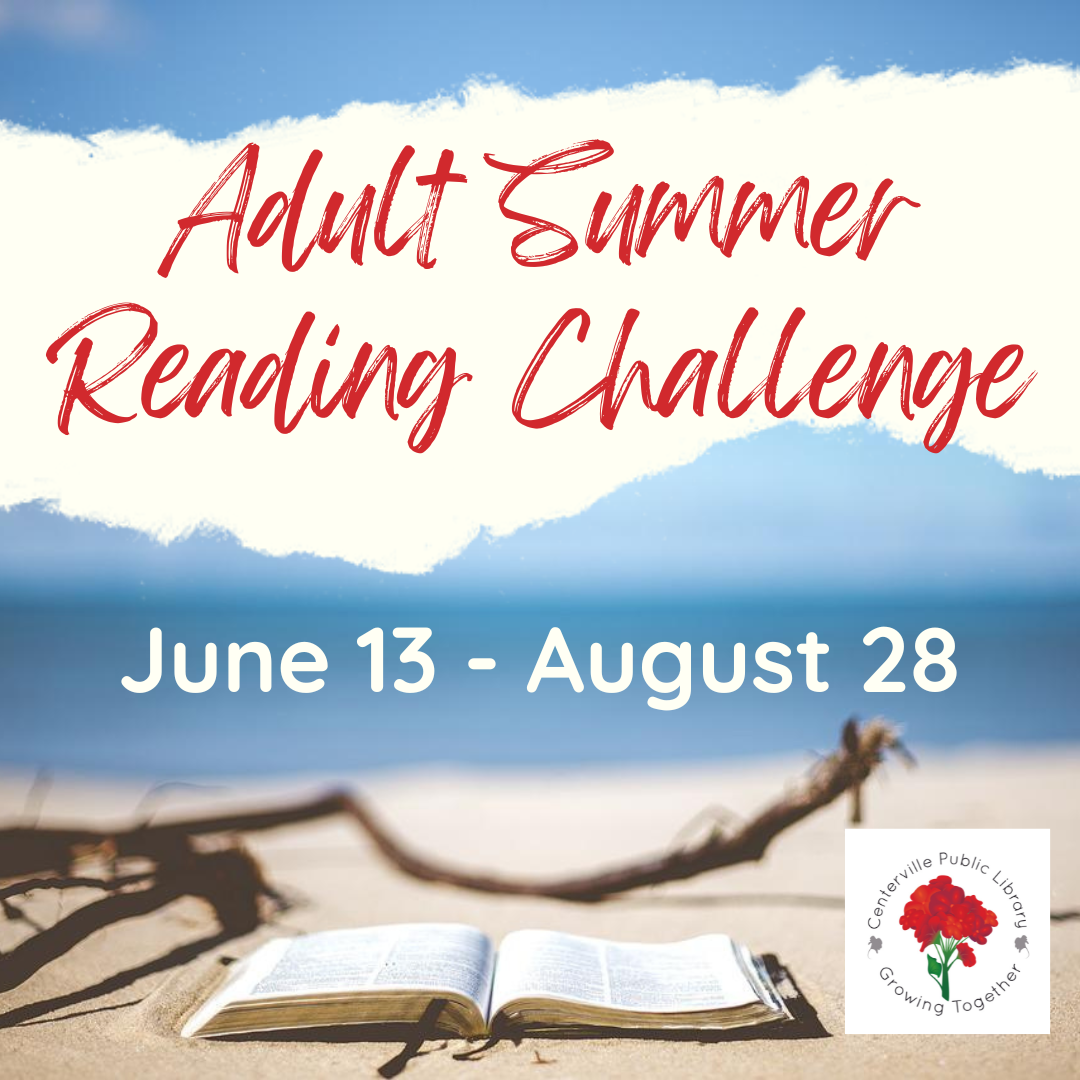 Why should only kids get all the prizes?
CPL's Adult Summer Reading Challenge is Back!
HOW TO PLAY:
Pick up a BINGO board in the front lobby or print one print a copy by clicking this link.
Fill in each square with the name of a book you completed this summer - each book title can only be used once. Audiobooks count!
Each action earns prize drawings:
Complete a box (in addition to the free space) = one (1) entry

Each completed row, diagonal, or column counts = two (2) entries

Post a picture of your book cover and tag us on social media = one (1) entry

Blackout the card to be in the running for our Grand Prize!!
Return your card to Centerville Public Library or send a clear image of the card to eandrews@clamsnet.org by Sunday, August 28th to be entered into the prize drawings. Check out our Facebook and Instagram pages for book suggestions each week! [Use #SummerReadingAtCPL]
---
Yoga at CPL (HYBRID)
Wednesday, July 6 from 10:30am - 11:30am
In collaboration with Yoga Neighborhood, CPL will host a FREE Hatha yoga at CPL on the 1st and 3rd Wednesday of the month from 10:30am-11:30am. We welcome you to join us either in-person or via Zoom!
The instructor will lead class indoors in our community room. Don't forget your mat! (Donations to CPL to support this class are always welcome)
Register at this link if you want the Zoom link to the virtual class.
---
Pilates Workshop (IN-PERSON)
Thursday, July 14 from 5 - 7pm
In this two hour workshop, Joan Berglund, certified Stott® Pilates instructor, will review the basics of the Stott® method of Pilates through physical practice and a discussion of theory. The Essential matwork repertoire is beginner-friendly but experienced practitioners can also learn ways to deepen their understanding of Pilates-based movement.
The workshop will include:
how to apply Stott® Pilates biomechanical principles of core stability, breathing and alignment to all exercise;

a complete breakdown and physical practice of each exercise in the Essential Mat workout;

variations to increase or decrease exercise intensity;

modifications for specific body types and postural issues;

and how to use small props to enhance your practice.
Dress for movement. Please bring a mat and a towel. If you already own a fitness circle, stability ball and/or flex band, bring them if you like!
This is an in-person program and registration is recommended. Click here to register for Pilates!
---
Sea Captains of Cape Cod (IN-PERSON)
Friday, July 15 from 1:00 - 2:00pm
Cape Cod Massachusetts abounds with maritime stories involving deep sea travel, packet boat journeys, whaling expeditions, early American naval skirmishes, all types of ship building innovations and enough fishing stories to fill up a large trawler. Our American Heritage takes shape before our eyes with tales of entrepreneurial brilliance, daring oceanic adventures, and struggles for survival on land and in the depths of the sea. Join us for stories of audacious sea captains as they take us on a fascinating nautical voyage!
Presented by Dr. Michael Pregot. Pregot is Assistant Professor of Educational Leadership at University of West Georgia and a former K-12 School Superintendent of Hanover and Gardner Public Schools. He recently published "The Sea Captains of Cape Cod" through Sunbury Press, and currently lives in Brewster.
This is an in-person event. Click here to register for Sea Captains of Cape Cod!
---
Falmouth Road Race Author Talk with Paul Clerici (IN-PERSON)
Monday, August 15 at 6:00pm
The history of this fascinating race spans 47 years, and Clerici, an award-winning journalist and freelance writer, will share the behind-the-scenes tales and tidbits he's culled from hundreds of interviews with runners and supporters connected with Falmouth's famous 7-miler.
Hear about the runner who swam across the harbor. Learn how legendary coach Bill Squires and his Greater Boston Track Club athletes ignited the race's competition and how the race's inspiration – Olympic gold medalist Frank Shorter – came to Falmouth. Find out why 6-time champion Joan Benoit Samuelson nearly missed one year due to her race-morning boat ride.
This compelling story is told through nearly 80 vintage and race-day photographs that span decades, including some which have never been published before. Author Paul Clerici, who has run the Falmouth Road Race several times and the Boston Marathon 23 years in a row, is also the author of the "Boston Marathon History by the Mile" and "History of the Greater Boston Track Club" books.
Click here to register for this program!
Brought to you by Centerville, Hyannis and Marstons Mills Public Libraries.
---